Restoration Work at Berkshire Bespoke Picture Framing
We are pleased to have an association with a local fine art restorer and conservator. A member of ICON
our specialist has been restoring and conserving all types of fine art and collectables for over 25 years.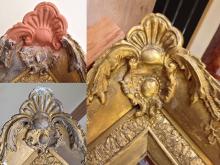 Frame Restoration
Original frames are often very important to the provenance and value of the painting it surrounds. Dealers and collectors are keen to have artwork in its original condition as it can indicate the age and authenticity of the picture. Unfortunately most late 18th Century and 19th Century swept frames are made from pine or oak with gesso embellishments that is then gilded all over. Gesso is prone to chipping, breaking and disintegrates in water. The gilding is often diminished by dampness or over rubbing and often gilded frames are repainted with a gold coloured varnish.
Embracing modern conservation techniques it is possible to replace missing decorations and mouldings. Using a complete corner a moulding can be taken and missing corners replicated. Small areas of decoration can also be replicated using this method or by hand using a non shrink water based material. This hardens to the same consistency of the original and often can only be seen by the trained eye.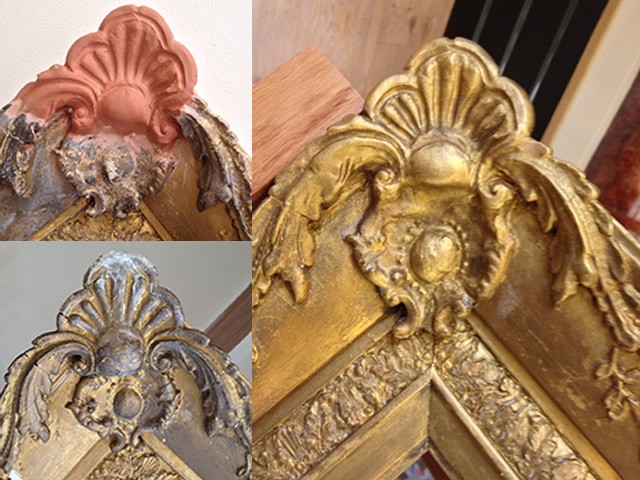 Although re-gilding is offered it can often appear too bright and may look too new for the painting it is surrounding. It is our ethos to conserve frames and therefore try to keep as much of the original that remains. Retouching is done with a sympathetic eye, tidying up and giving the frame its depth in the gold finish, but retaining its age.

All quotes are free and often equate to the price of reframing the piece in a modern frame. The quality and structure of the frame is evaluated and can be consolidated to give the frame strength to last another 100 plus years.